MULTI
é um manifesto gráfico, que se materializa em um acervo online, reunindo referências teóricas e visuais produzidas por culturas fora do eixo eurocêntrico.  
O objetivo é facilitar a inclusão cultural nos conteúdos e conhecimentos que acessamos enquanto designers.
MULTI
is a graphic manifesto, turned into an online archive that gathers design references produced by cultures outside Western Europe and USA. Its main goal is to facilitate cultural inclusion in the contents and knowledge we access as designers.
O acervo é resultado do meu Projeto Final do curso de Comunicação Visual na PUC-Rio. O projeto se chama
"A inclusão cultural como forma de ampliar a diversidade no design global"
e foi baseado em 1 ano de pesquisas sobre obras de Comunicação, Sociologia, Educação e Literatura. Seu propósito é evidenciar o eurocentrismo no design e a importância de se consumir conteúdos culturalmente diversos, para que se possa ter uma maior diversidade de perspectivas, histórias e culturas como um dos princípios centrais da Comunicação Visual.
The archive is the result of my Final Project for the college of Visual Communication at PUC-Rio. The project is called
"Cultural inclusion as a way to expand diversity in global design"
and was based on 1 year of research on works in Communication, Sociology, Education and Literature. Its purpose is to highlight the Eurocentrism in design and the importance of consuming culturally diverse content, so that we can have a greater diversity of perspectives, histories and cultures as one of the central principles of Visual Communication.
Foi desenvolvida a identidade visual da plataforma, assim como os layouts das telas de cada página. Os layouts foram baseados nas interações com o cursor e nos princícios de experiência do usuário. As telas tem como objetivo a demonstração do funcionamento do site, que não foi materializado para a entrega final do projeto.
I developed the visual identity of the archive, in addition to the page layouts. The pages were created based on the cursor interactions and the principles of UX design. However, they are only meant to be demonstrations of the website's operation, as this is a graphic design project.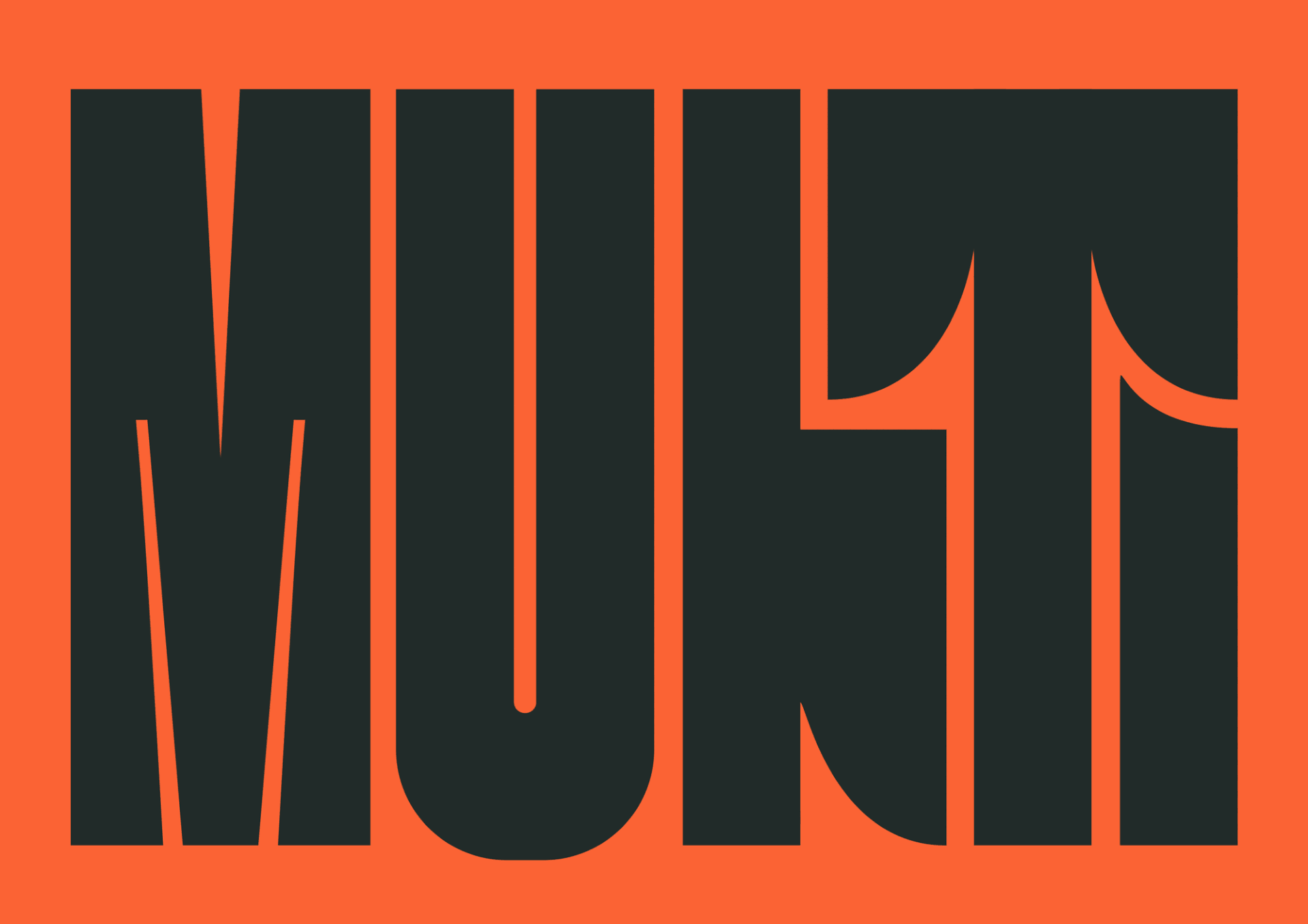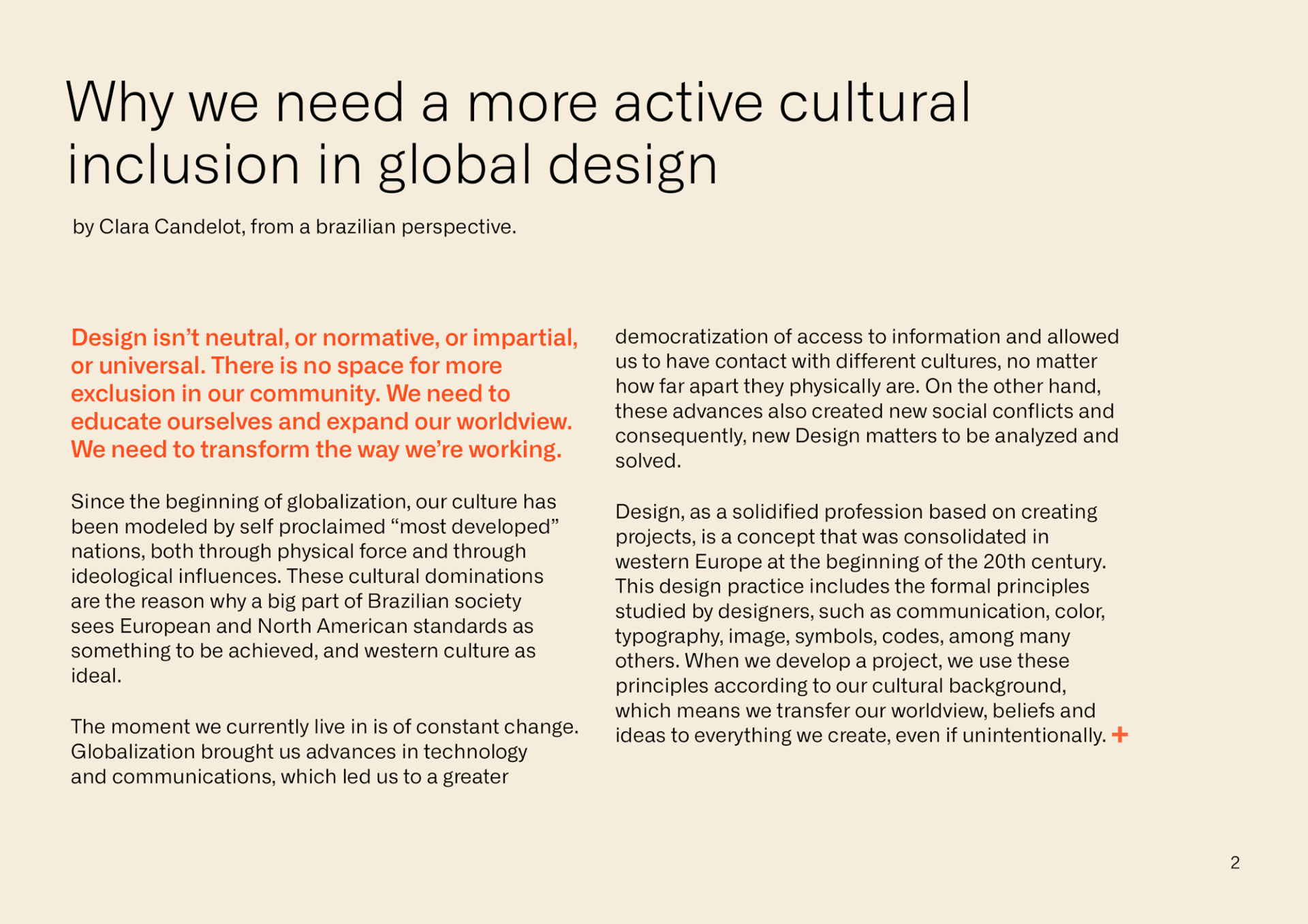 O manifesto é a primeira página do site, e resume toda a pesquisa que originou o projeto. O texto é um dos pontos principais na solução do projeto, pois reforça o aspecto político do design, que é frequentemente deixado de lado no processo criativo do trabalho.
O manifesto na íntegra em português pode ser lido
aqui.
The manifesto is the first page of the platform, and it contains a summary of the research that originated the project.

 

The text is a key point in the project solution, because it reinforces the political aspect of Design, which is often left aside when we're focused on creative work.
You can read the full english version
here.
O site é dividido em 4 páginas principais:
Manifesto
,

onde está o resumo da pesquisa desenvolvida, que explica o projeto.
Acervo
,

onde estão as referências de design.
Envie suas refs
,

onde o usuário pode contribuir para a coleta do conteúdo do acervo.
Contato
,

onde o usuário pode se comunicar com os administradores do site.
The website is divided into 4 main pages:
Manifesto
,

with a summary of the research I developed.
Archive
,

 with the design references.
Submit your refs
,

where the user can submit design refs to the archive.
Contact
,

where the user can communicate with site administrators.
O acervo é uma forma de propor um espaço onde referências de design culturalmente diversas possam ser encontradas facilmente. Seu conteúdo seria adicionado pelos próprios usuários, dividido em 4 categorias:
Public

ações
,

com referências teóricas.
Pessoas

, com portfolios de designers e artistas.
Projetos
,

com referências visuais.
e
Plataformas
,

com outros sites que promovem a inclusão no design.
The archive is a way to provide a space where Design work from cultures worldwide can be easily found. The content would be submitted by users and organised in four categories:
Publications
,

with theoretical references.
People
,

with portfolios of designers and artists.
Projects
,

with visual references.
and
Platforms
,

with other websites that promote inclusion in design.
Abaixo, você pode assistir à demonstração de funcionamento da plataforma.
​​​​​​​

You can watch the demonstration video of the website below.
Criação, direção e desenvolvimento:

Clara Candelot
Orientação acadêmica:

Izabel Oliveira e Luiz Ludwig
Projeto

"A inclusão cultural como forma de ampliar a diversidade no design global"

, desenvolvido na disciplina Projeto Final de Comunicação Visual da PUC-Rio, em 2021.